This article is about the real-life translation group. For the in-universe organization, see Witch Hunters.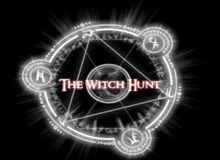 "Actually, in the new work that was only recently published, "Umineko no Naku Koro ni EP4 Alliance of the Golden Witch", there is a scene where a cultured college professor challenging the Legend of the Rokkenjima Witch calls himself a "Witch Hunter".
We borrowed this name out of respect for the name of your website, "THE WITCH HUNT"."
— Ryukishi07 in his letter to Witch Hunt
Witch Hunt, known as The Witch Hunt in the Umineko credits, is a translation group responsible for the English fan-translations of Umineko no Naku Koro ni and Rose Guns Days. They were also hired by MangaGamer for the official English release of Umineko, which contains a full edit of their previous translation along with a port of the visual novel to the Ponscripter engine. They are currently working with 07th Expansion on the simultaneous English release of Ciconia no Naku Koro ni, and have expressed intent to translate Umineko no Naku Koro ni Saku.
The team was sent a letter by Ryukishi07 in recognition of their efforts during the fan-translation of Umineko. Their name was also used by Ryukishi07 in Alliance of the Golden Witch as the name for the in-story organisation dedicated to researching the 1986 Rokkenjima Incident from an occult perspective.
Team Members
Original Team (as on their website):
Head Translator/Web: chronotrig
Graphics/Editing: Klashikari, Usagi Tenpura
Editing: Squirrellord, crazysjd89
Onscripter Engine: Mion
Mac OSX Support: Roto
Windows Installer: Message
Official Umineko When They Cry release team (according to the credits):
English Translation/Scripting: chronotrig
Text and Image Editing: Klashikari
Text Editor: SquirrelLord, crazysjd89
High-Res Graphics/Illustration Editor: UsagiTenpura
Ponscripter Engine Support: Uncle Mion
Special Thanks: OIZUMI
External Links
Community content is available under
CC-BY-SA
unless otherwise noted.