This article is about a piece of terminology in

multiple series.
It may contain spoilers for each.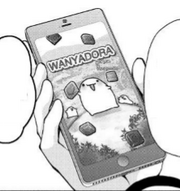 The wanya (わにゃ), also called wanyan or meowoof, is a recurring blob-like creature in Ryukishi07's works that appears to be his author avatar. The wanya is sometimes associated with a fictional video game titled WanyaDora (わにゃドラ, WanyaDora) or other similarly-named games and objects.
The wanya has also been referred to as "Namekuchi" and as a slug.[1]
List of Appearances
This list is sorted by chronological release date.
WanyaDora Gameplay and Features
It can be surmised from scenes in Ciconia that WanyaDora focuses around collecting and trading resources and monsters, combining them to become stronger.[4][5] Collecting hearts from friends[6] and engaging in pvp[7] are also main features. Monsters also have rarities[8][9], similar to gacha games. Convincing people to install the game presumably gives players bonuses.[10]
Gallery
Trivia
Wanyan is translated as meowoof because "wan" is the Japanese syllable for "woof," and "nyan" is the Japanese syllable for "meow." The "dora" part of the WanyaDora title comes from "doragon," the Romaji pronunciation of "dragon." Ryukishi07 can be literally translated as Dragon Knight 07.
The title may also be a reference to the game Puzzle & Dragons, which is often abbreviated in Japanese as PazuDora.
References