The Ushiromiya Family (右代宮一族, Ushiromiya Ichizoku) is the main focus of Umineko When They Cry.
The production team of the anime is named after this.
Family History
The Ushiromiya family was very prosperous from the late 1860s to the early 1920s, where they owned several spinning mills and the young Kinzo Ushiromiya was part of a branch family that had nothing to do with the main family. After the Great Kanto Earthquake in 1923, the Ushiromiyas' spinning mills in Tokyo burned down, and the family mansion in Odawara crumbled. The Ushiromiyas lost most of their wealth and family in an instant, and when trying to find a successor, they decided on Kinzo and he was soon set up with an arranged marriage, going on to have several kids.
Kinzo then received a mountain of gold from the Golden Witch Beatrice, using it to invest into businesses and build his fortune. The Ushiromiya family became prosperous again with Kinzo becoming rich enough to buy the island of Rokkenjima. This gold, printed with the One-Winged Eagle, would be hidden on the island with the witch's epitaph leading the way to it.
One-Winged Eagle
The One-Winged Eagle is a symbol that is worn by almost every member of the Ushiromiya family and by certain servants. People who are directly related to Kinzo, like the siblings and cousins, are permitted to wear it on their clothes or bodies.
Family Hierarchy
The Ushiromiyas follow a ranking system, displayed by the position and number of chairs at the table in the dining hall. Kinzo sits at the top in the Incipient's Chair, with the chairs and ranks going in descending order from left to right while facing the Incipient's Chair. Direct relatives held higher ranks while spouses were at the very bottom.
Family rank by descending order:
Family Tree
1: First wife
2: Second wife
Complete Family History
MAJOR UMINEKO SPOILER WARNING

This article or section contains untagged major spoilers for all of Umineko When They Cry, possibly including the manga. Readers who have not completed the story are advised not to proceed further.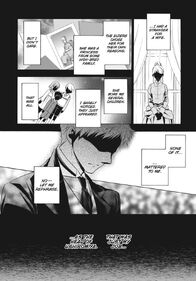 Around some point after Rudolf was born, Kinzo was enlisted into the Japanese army to fight in World War II, wanting to die because he secretly disliked his family. Kinzo became stationed on a base on Rokkenjima, which was called Akujikishima back then. A group of Italian soldiers arrived at the base by a damaged submarine, carrying a pile of gold bars. Kinzo met the Italians' translator, Beatrice Castiglioni, and the two fell in love.
The gold caused disputes between the Italian and Japanese soldiers, ending with them killing each other. Kinzo and Beatrice became the only survivors, and they abandoned the island while taking a few gold bars with them. Kinzo returned to his main family and sent Beatrice to live in a private house elsewhere, paying her visits disguised as business trips. Kinzo and Beatrice would then have a child, Beatrice Ushiromiya (Beatrice II). Beatrice I would die shortly after.
At this point, Kinzo had already bought Akujikishima, renaming it to Rokkenjima. The island had been ignored by the Japanese military after WWII ended, and the Italian submarine containing all the gold bars was still intact. Kinzo had built a second mansion, Kuwadorian, hidden deep in the forests of Rokkenjima. Kinzo would make it a home for Beatrice II, keeping her hidden from the outside world. Beatrice II grew to adult age, having a childlike mentality because of her ignorance of the outside world. Kinzo and Beatrice II then had a child, who would become Sayo Yasuda.
Beatrice II would die shortly after Sayo's birth as well. In almost every fragment, the baby Sayo is taken by Kinzo and given to Natsuhi to raise as she was unable to get pregnant at that time. Natsuhi would then throw Sayo off a cliff, resulting in her genital mutilation. Sayo was discovered to have survived by Genji Ronoue and Terumasa Nanjo, who healed her injuries as best they could and sent her to live in the Fukuin House. Sayo later becomes a servant, only discovering her true heritage after solving the epitaph.
In a fragment where Sayo doesn't get thrown off a cliff, she is instead accepted by Natsuhi and is raised as Lion Ushiromiya.
Meanwhile, Rudolf was married to Asumu and he was cheating on her with Kyrie that she got pregnant and she was set to deliver their babies on the same date as Asumu wound up having a miscarriage while Kyrie gave birth to Battler. Rudolf didn't want news of him having an illegitimate child with a mistress to get out, so he bribed the doctors to change the birth results; it was then believed that Asumu had given birth to Battler while Kyrie had a miscarriage.
Origin of the One-Winged Eagle
The One-Winged Eagle originated from a misprinted Salo Republic symbol on the pile of Italian gold bars. The old symbol was supposed to look like an eagle spreading its wings, but the gold bars were printed at an angle, and the resulting crest looked like an eagle with one wing.
When Kinzo claimed these gold bars for himself, he adapted a similar version of the symbol for his family crest. Some of the gold bars were reprinted with this new version of the One-Winged Eagle for public display; this was done to reduce the chance that people would associate the gold with the Salo Republic.
Complete Family Hierarchy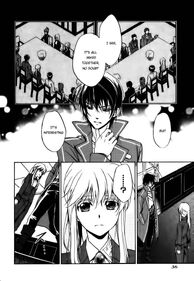 Family rank by descending order when Lion exists:
Complete Family Tree
Trivia
The surname Ushiromiya means "stone" (右) (ushi), "generation" (代) (ro) and "temple, shrine, palace" (宮) (miya).

de:Kategorie:Ushiromiya Familie