Umineko no Naku Koro ni Saku (うみねこのなく頃に咲, lit. When the Seagulls Cry Bloom) is the latest visual novel release in the Umineko When They Cry series released on the same day with Ciconia no Naku Koro ni. It is a collection that contains all released visual novel content for the series thus far, as well as some additional content. Like the previously released Tsubasa and Hane, it is officially subtitled When They Cry 4+.
It was originally scheduled to be released in the summer of 2018, though the release date was delayed until the end of September 2019. The release date, once again, was delayed until October 4, 2019.
At that time, it was released in Japanese only. Currently, the translation team Witch Hunt have been asked by Ryukishi07 to focus their efforts on the completely new game Ciconia, which means that it will be some time before Saku is released in English [1].
Episodes
Previous Content
Umineko no Naku Koro ni Question Arcs
Umineko no Naku Koro ni Tsubasa
New Content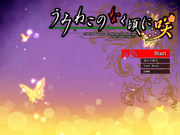 A short story describing the process of creation for Beatrice's game boards, from setting up the murder tricks to adorning the narrative with fantasy. It was previously released as a bonus booklet and as part of the short story compilation book The First and the Last Gift. This is the first time it has been made into a visual novel.
A completely new episode featuring a new character named Piece.
Opening
Gallery
References
External Links