"Come, try to remember. What form did you have?"

This article features content originating from lost media, and so information about it is limited.
Shimiko Makino (牧野 沁子, Makino Shimiko) is a character that appears in the Higurashi no Naku Koro ni i-mode ports. She works as a cashier at Seventh Mart and as a housekeeper for the Sonozaki Family.
Appearance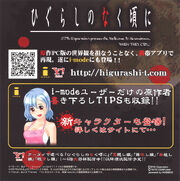 Shimiko is not given an appearance in the original visual novels.
In the i-mode version, she has blue hair and wears a pink apron.
Personality
Story
Shimiko is first mentioned. She prepares tea for Oryou Sonozaki.
Mion tells Shimiko to tell the other housekeepers that they don't need to come in for the next few days, as Oryou is angry and needs time to cool off. Unbeknownst to her, Mion was Shion in disguise and had killed Oryou.