Sanrio is a Japanese company known for creating the Hello Kitty franchise.
Collaborations with Higurashi
"A Sanrio Puroland will be built in Hinamizawa!?"
— Loading screen quote on the collaboration website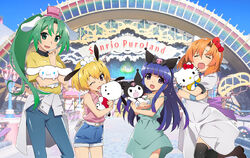 As an April Fool's joke in 2021, Sanrio collaborated with Higurashi: When They Cry - GOU. The Gou website (archived) was redesigned to feature various Sanrio characters alongside Higurashi characters. Character bios and announcements told a story of how a Sanrio Puroland was being built in Hinamizawa, with Sanrio characters described as interacting with the main Higurashi cast.
The site went back to normal after April 1st. Due to the positive response to the collab, the Gou Twitter account announced on April 2nd that the collaboration would continue.[1] These collaboration plans included merchandise at certain shops in Japan, a collaboration with Higurashi no Naku Koro ni Mei, and more.[2]
On April 16, 2021, the collab website was put back up, adding Teppei among the collab cast. Additionally, the Higurashi Mei account announced Sanrio-themed units to be released on April 20, 2021, with a corresponding event story.[3] These units include:
Announcements
MAJOR HIGURASHI SPOILER WARNING

This article or section contains untagged major spoilers for the original Higurashi When They Cry and possibly the console-exclusive arcs. Readers who have not completed the main story are advised not to proceed further.
Announcement
Date
Started electrical equipment installation business in collaboration with Okonogi Gardeners and Goropikadon.
April 1, 2021
We are preparing a tour of the ritual warehouse with Pochacco.
April 1, 2021
This year's Watanagashi Festival will feature a collaborative performance with My Melody and Kuromi.
April 1, 2021
Cafe Cinnamon newly opened in the Hinamizawa shopping district today.
April 1, 2021
Tiran joins the Hinamizawa Fighters.
April 1, 2021
The Pompompurin Fair is now on at Angel Mort.
April 1, 2021
Hangyodon is appointed as the chief of

Okinomiya Police Station

for a day.
April 1, 2021
Irie Clinic introduces height and weight scales in units of "X number of apples".
April 1, 2021
Teppei and Keroppi are joining us!
April 16, 2021
Gallery
Character Tags
Character Profiles
References
External Links