Ryukishi07 (竜騎士07, Ryuukishi Zero-Nana, lit. Dragon Knight Zero Seven) (birth name unknown) is a Japanese author and artist who is well-known as the creator of the When They Cry sound novel series, consisting of Higurashi When They Cry, Umineko When They Cry, and Ciconia When They Cry. He is the representative member of the group 07th Expansion.
Biography
Ryukishi was originally born in Chiba Prefecture.[2] As an adult he worked as a civil servant until he was 30.[4] During his time as a civil servant, Ryukishi developed a hobby in doujin circles and was part of a group to produce a work called Flowers, but it never released since the circle disbanded. Ryukishi later formed his own doujin group called 07th Expansion with his two younger brothers[5] and created cards for the card game Leaf Fight.[6]
Inspired by the visual novel Tsukihime created by TYPE-MOON, Ryukishi and his brothers decided to make their own novel game. Ryukishi had previously written various stage play scripts and took one called Hinamizawa Bus Stop and reworked it into Higurashi When They Cry.[7] Higurashi has since become a pop culture phenomenon, and 07th Expansion's members grew as Ryukishi became involved in many more visual novel works.
"Ryukishi07" is a pen name, inspired by the character Reina of Final Fantasy V: "07" in Japanese can be pronounced as "reinana", and "Ryukishi" means "dragon knight", referring to the dragoon job in Final Fantasy. The character Rena Ryuugu, primarily associated with Higurashi, was originally a heavily-modified fan-rendition of Reina as well.[8] The uniform worn by Reina, a highly modified rendition of the dragoon outfit, would also become the Angel Mort costume worn in-universe by Higurashi characters before becoming emblematic of 07th Expansion as a circle.
Style
Art
"At any rate, my drawings are terrible (sweat drop)."
Ryukishi's artwork is (in)famous for its poor quality, which initially contributed to early difficulties in Higurashi's growth since it was one reason not many doujin stores wanted to sell it.[9] Ryukishi considered his art style intentional however, wanting to lure readers in with a false sense of security in thinking it was just a romance story.[10] Ryukishi is especially criticized for the way he draws hands, which he is conscious about.[11]
Writing
Ryukishi describes his writing process as like building a rollercoaster: he gets readers excited and hopeful with fun and happy scenes before putting in cruel scenes.[12] He enjoys seeing people react to his work, especially if they're horrified.
Ryukishi also thinks of his writing process as like playing a game with the readers. Ryukishi looks up fan reactions to new installments of his work and will change or add parts according to reception; sometimes he'll reference popular fan theories, but other times he'll throw out future plans and rewrite things from scratch, as he did with Umineko Episode 3.[13] When it comes to fan-made derivative work, Ryukishi has shown great support for it.[14]
Themes
Recurring themes in Ryukishi's work are social issues such as child abuse and familial relationships, which are seen as realistically written due to his experience as a civil servant.[12]
"One part of my fictional world/character settings are similar, or pretty much borrow the concept of star system, making you feel 'Oh, there is that character!'"
— Ryukishi07 in Higurashi Gou SP Live Talk
Another recurring aspect is characters with similar appearances and names to those in his prior works. He sees his characters as actors and compared using similar character designs to Harrison Ford playing both Han Solo and Indiana Jones: the person behind the role is the same, but the character they are playing in each movie, or in this case game, are very different.[15]
More recent works produced by Ryukishi have seen the presence of the wanya, a blob-like creature that seems to be his author avatar.
Works
Early Work
Before he started using the penname of Ryukishi07, he was involved with making an 18+ doujinshi, however it saw limited success. The first use of the Ryukishi07 name was for another, "all-ages" doujin.[16] After this, Ryukishi started creating custom cards for the game Leaf Fight, making some based on characters from Tsukihime and the Key visual novels AIR and Kanon.
The horror-mystery-thriller Higurashi was Ryukishi's first successful commercial work, and arguably his most famous. The original eight story arcs were released from August 10, 2002 to August 13, 2006, with an additional set of arcs released on December 31, 2006. During that original serialization period, Ryukishi became involved with manga, anime, light novel and drama CD adaptations, and manga spinoffs of Higurashi as its popularity grew. Almost 20 years later, Higurashi continues to get extensive console remakes, spinoffs, and sequels.
Kaidan to Odorou was a light novel serialized in Faust magazine from November 11 to December 20, 2005. A mystery-horror work, it featured ostensible connections to Higurashi and would establish a trend of cross-series references between Ryukishi's future work.
Gakkou Youkai Kikou was a horror light novel that was serialized in Dragon Age Pure magazine starting on November 29, 2006. It would form the basis for Higanbana no Saku Yoru ni, a sort of remake.
Umineko was Ryukishi's second visual novel work, and a followup to Higurashi as the second part of the When They Cry series. Similar to Higurashi, Umineko had eight story arcs that were released from August 17, 2007 to December 31, 2010. Ryukishi also had a hand in manga and anime adaptations of Umineko during that time, and he also wrote a multitude of short stories expanding on Umineko's characters and world.
Verokia Dragoon Story was a historical fantasy web novel serialized in Shonen Alchemist from May 11, 2007 to January 25, 2008.
Okamikakushi was a horror visual novel published by Konami and released on August 20, 2009.
Higanbana was originally a manga series that was serialized between May 2010 and November 2012. It took the setting and characters introduced in Gakkou Youkai Kikou and expanded upon them.
Higanbana was then adapted to visual novel format and became the third visual novel work produced by Ryukishi with 07th Expansion. It released two installments on August 13, 2011 and December 31st, 2011.
Rewrite was a visual novel collaboration with Key and the writers Romeo Tanaka and Yūto Tonokawa. Ryukishi wrote Lucia's route.
Rose Guns Days was the fourth visual novel release by 07th Expansion. Rose Guns Days was a historical action-drama, and unlike previous works, featured playability through fighting minigames and character artwork by many manga artists that Ryukishi had grown acquainted with during Higurashi and Umineko's manga adaptations.
Hotarubi no Tomoru Koro ni was a horror manga series serialized in Gekkan Action from March 25, 2016 to February 24, 2018.
Iwaihime was a horror visual novel released for PC on January 29, 2016.
TRianThology was the fifth visual novel produced by 07th Expansion and released on August 31, 2016. Ryukishi once again collaborated with Romeo Tanaka and Yuto Tonokawa, with each one writing a different story.
Harem Royale was a harem-thriller manga serialized from 2016 to 2019.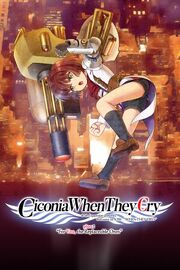 Ciconia is the sixth visual novel series produced by 07th Expansion and the third installment of the When They Cry series. It began release on October 4, 2019.
Bakemonotachi is a horror light novel that was released on December 16th, 2019.
Gerokasu is a visual novel that was released for consoles on December 17, 2020.
LOOPERS is a visual novel that was released on May 28, 2021. It was a collaboration with Key, with Takeshi Matsuyama and Romeo Tanaka to write two other visual novels Project:LUNAR and Project:PORTER as part of the project.
Miscellaneous Work
Arietta Company (

アリエッタカンパニー

) is a novel that was serialized in Dengeki G's Magazine from September 30, 2005 to March 2006.[17]
Higurashi Daybreak is a fighting game spinoff of Higurashi produced by Twilight Frontier and released on August 13, 2006. Ryukishi had a hand in writing the story.
The Story of Coffee is a short story published in PANDORA Vol. 2 Side-A on October 10, 2008.
Natsu no Kagerou was another video game collaboration with Twilight Frontier that began development in 2010, however it was cancelled. Only a demo was ever released.
Ryukishi wrote the script for the xxxHolic first-run limited edition volume 13 drama CD.
Ryukishi appeared as a guest on the radio show Genchoken, made to advertise the anime Genshiken 2.[18]
Kaitō Tenshi Twin Angel features some bonus illustrations by Ryukishi.
Kannagi featured a bonus illustration by Ryukishi in volume 2.
Pani Poni Dash! Episode 17 featured an endcard illustrated by Ryukishi.
Kamaitachi no Yoru: Rinne Saisei, a remake of Kamaitachi no Yoru, featured a new scenario by Ryukishi. The game first released on February 16, 2017.
Haworthia is a drama CD released on October 29, 2017. It served as a prototype for some of Ciconia's concepts.
Song Lyrics
To You Who Are Not False (

偽らない君へ

) is an insert song in Lucia Konohana's route in Rewrite and in the 10th episode of the anime adaptation.
Sunbright (

サンブライト

) is an insert song in the 5th episode of the Rewrite anime adaptation.
You -Sotsugyou- is an insert song in Higurashi: When They Cry - SOTSU.
Trivia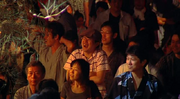 External Links
References