Onidamashi-hen (鬼騙し編, Demon Deceiving Chapter) is the first arc in Higurashi: When They Cry - GOU. The name of the arc isn't revealed until the end of the second episode where the preview for the third one is played.
Episodes
Characters
Manga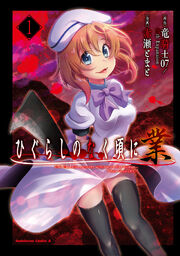 The manga version of Onidamashi contains three chapters and is included in the first volume.
Differences
The scene at the beginning of episode 2 with an older Rika meeting Hanyuu is moved to the end of the arc. It is also changed to where

Rika is no longer a teenager but also expands on the scene and references the events of the original story.

There is no mention of Takano's car and Tomitake's bike still being around the site of the festival on the day after.
The renovation of the Irie Clinic is not shown.
Keiichi is shown recalling more memories from Onikakushi, such as the scene with Rena at the door and the true events of Rena's death as described in Tsumihoroboshi.
Trivia
The first novel volume of Kataribanashi contains a story with the exact same name, but this is likely a coincidence.