This article is under construction and may be incomplete.

Please be patient while the rewrite is in progress.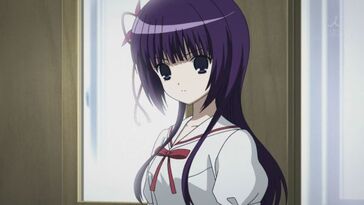 Nemuru is a fifteen year old girl and is the sole heir of the Kushinada clan. Her role is a Hunter who hunts down all Fallen humans and executes them. She is a fan of Usaeru, a pink rabbit-like doll and even cosplays as it in the last episode of the series. She is voiced by Mariya Ise in the anime.
Physical Appearance
Nemuru is a very beautiful young girl who has pale and white skin, purple hair and her eye color is purple. She is seen wearing a red ribbon that is tied into her hair with a yellow-red pinwheel-like bow on top.
On her school days, she wears her school uniform which consist of a white shirt with a red tie and a white skirt. When she is hunting, she wears a ceremonial outfit with a wolf mask and wields a scythe.
Relationships
Mana Kuzumi
Nemuru is close friends with Mana. The first time they met was when Mana saw the village council and almost fell out off her wheelchair. Nemuru helps her and gives her the Usaeru doll after seeing Mana adoring the doll.