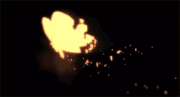 All of the magic of the Umineko When They Cry universe shall be based on the existence of a clear theory and ideas. From this fact, it is one of the elements that are required to the reasoning player explore the identity of what is self-described as magic.
Magic (魔法, Mahō) is a supernatural force that witches, sorcerers and demons use. It also looks like the power to turn the impossible into possible and, in fact, is divided into several compendium of magic, and its effects appears to be different for each system.
Miracle (

奇跡

Kiseki) is the title of the compendium of magic used by the Witch of Miracles Bernkastel. It consists in repeating events many times to reach a miracle as result, as long as the probability of this miracle is not a perfect 0%.