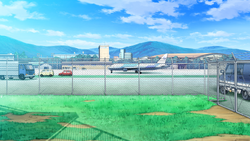 Kakiuchi Airport (垣内空港, Kakiuchi Kūkō), also known as Chubu International Airport (中部国際空港, Chūbu Kokusai Kūkō), is an airport located in Kakiuchi City. Tomoe Minai visits it every year because of its possible connection to a case her late father was investigating.
Description
Kakiuchi Airport is located near an Air Self-Defense Force base. An extensive sewer system is said to be under the airport, mainly for usage by the SDF.[1]
History
Kakiuchi Airport holds the record for the fifth highest passenger count in all of Japan. It is the largest airport in the Chubu region and contributed to Kakiuchi City's population growth as a commuter town.[2]
Kakiuchi Airport is located next to an SDF base, who often use their runways for military purposes and for yearly air shows. Due to the differences between civilian and military aircraft and an increase in international flights, plans were made to expand the airport however obtaining land has been difficult due to opposition by local residents. Residents were given subsidies, though they used this money not to relocate but to renovate their homes, making it difficult for the airport to pursue expansion. A plan was soon proposed to build a new Kakiuchi Airport somewhere else, however this resulted in the reputation of the old airport diminishing, with some people losing their jobs.[3][4]
Miotsukushi-hen Ura reveals that Kakiuchi Airport has been the site of drug smuggling for years. Every year, Lowell Inc sends shipments of the banned drug Placil into Japan disguised as supplies for the air shows.
References