Higurashi no Naku Koro ni Kizuna (ひぐらしのなく頃に 絆, When the Cicadas Cry Bonds) is a series of visual novel ports of Higurashi When They Cry on the Nintendo DS by Alchemist. Four games were released in total, each containing four chapters.
This series introduces the Advanced Story, a saga of four arcs based upon and expanding the Onisarashi manga, consisting of Someutsushi, Kageboushi, Tokihogushi, and an expanded version of Miotsukushi different from its original debut in Matsuri (later ports split the additional content off as Miotsukushi Ura). Each game includes one of them. Another new arc, Kotohogushi, is introduced in the fourth game.
The third game introduces the visual novel adaptation of the Yoigoshi manga. Since Matsuri does not include Matsuribayashi, Saikoroshi, and Hirukowashi, this is their first inclusion in a console game.
Development History
Alchemist planned to only release Matsuri, but due to demand from fans of the original Higurashi who didn't own PS2s, Alchemist decided to port it to the DS since it was popular at the time. New arcs were also added to give old fans incentive to buy the new games. It was split into 4 releases because a single DS rom didn't have enough space to fit everything.[1]
Promotion and Release
Higurashi Kizuna was revealed as early as February 22, 2008 with a Famitsu article detailing how the story arcs from the original and Matsuri would be split across 4 releases, with new arcs planned. The article also introduced a new cast of characters including Natsumi Kimiyoshi and Tomoe Minai, and explained the "emotion selection" system that would affect story branches. The games would feature new character art and CGs by rato, who previously did Matsuri's art. Some character sprites were also redrawn to "make them more expressive and keep with the image of the original work".[2]
Another article on February 29, 2008 revealed that the new story arc Someutsushi-hen, originally based on the manga arc Onisarashi-hen, would be supervised by the original writer Ryukishi07 and artist En Kito. Additionally, the opening theme for the first game, Tsuisou no Despair, would be produced by Chiyomaru Shikura and sung by Kanako Ito. The BGM would be produced by 5zizz, which also worked on Matsuri.[3]
Kizuna Volume I released on June 26, 2008. Due to its apparent difficulty, a commercial was aired where Alchemist staff apologized for it.[4] The official Kizuna website later uploaded walkthroughs teaching players how to get 100% completion.[5]
Installments
Structure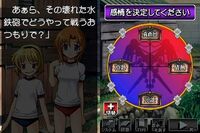 Each game features a choice system based on selecting how a character feels in certain situations, with the story changing appropriately.
Manga Adaptation
A namesake manga adaptation based on Tokihogushi and Miotsukushi was illustrated by Nonoka Hinata and serialized in Comp Ace from November 2010 to November 2011. It was later collected into two volumes.
Vol.
Cover
Release Date
Chapters
1
March 24, 2011

The Elite and Tales of Infidelity (

ェリートと浮気話

Erīto to Uwakibanashi)
Parental Affection, Filial Ignorance (

親心、子知らず

Oyagokoro, koshirazu)
Go for it! Uptown Girl (

目指せ!都会っ子

Mezase! Tokaikko)
The Days Change by (

変わりゆく日々

Kawari yuku hibi)
Natsumi and Akira. Sometimes, Chisato (

夏美と暁。ときどき千紗登

Natsumi to Akira. Tokidoki Chisato)
Shadows Draw Closer (

忍び寄る影

Shinobiyoru Kage)

2
November 19, 2011

The Daily Life of Tomoe (

巴の日常

Tomoe no Nichijou)
The Link between the Past and the Future (

過去と未来を繋ぐもの

Kako to Mirai wo Tsunagu Mono)
Family (

家族

Kazoku)
Messenger from the Darkness (

闇からの使者

Yami kara no Shisha)
The Curse of Oyashiro-sama (

オヤシロさまの崇り

Oyashiro-sama no Tatari)
Future (

未来

Mirai)
References