For the song, please refer Fukisokusei Entropy (song)

Fukisokusei Entropy / Ayane (不規則性エントロピー / 彩音) is a single album released for Higurashi no Naku Koro Ni franchise. It is composed by Chiyomaru Shikura and dai and performed by Ayane, who also performed many of the console opening songs; beginning with Nageki no Mori. M.Zakky and xaki were in charge of the arrangement and the lyrics were written by Ayane, Shikura and Motoki Zakuro. The single was published by MAGES. and MAGES Inc. on February 06, 2021 and sold for 1600 JPY. MAGES Inc. is also in charge of distribution.
The featured song Fukisokusei Entropy is the second ending theme of the television anime Higurashi no Naku Koro ni Gou (2020). The B-side contains the insert song from the Pachinko Release P Higurashi no Naku Koro ni Meguri and a new track, Hakumei no Monologue.
Tracklisting
Disc1
| # | Track Name | Length |
| --- | --- | --- |
| 01 | "不規則性エントロピー" | 4:24 |
| 02 | "Resonant Fragments" | 3:55 |
| 03 | "薄明のモノローグ" | 4:45 |
| 04 | "不規則性エントロピー" -off vocal- | 4:23 |
| 05 | "Resonant fragments" -off vocal- | 3:55 |
| 06 | "薄明のモノローグ" -off vocal- | 4:46 |
| | Total Duration | 26:08 |
Retailer-Exclusive Merchandise
Outlets

First time orders will receive a special original B2 size poster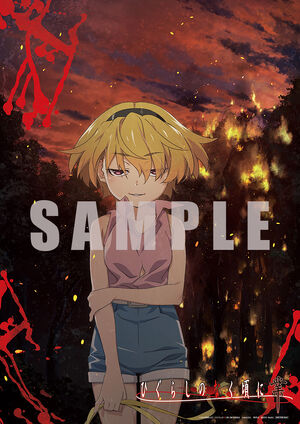 Notes
Each print utilizes a picture of Ayane, which may be different for each corporation.
The merchandise is limited and will be unavailable as soon as they are exhausted.
Merchandise may not be available depending on the store. Please check with the store for details.
Trivia
The album art along with the release date were unveiled on January 28th, 2021; immediately after the premiere of the 17th episode of Higurashi no Naku Koro ni Gou which ended with a startling revelation regarding the truth surrounding Satoko Houjou.
External Links