Introduction
Welcome to the 07th Expansion Wiki! We are a collaborative fan-made encyclopedia for all works written by the Japanese author Ryukishi07.
News
| | |
| --- | --- |
| December 17, 2020 | Kaleidoscope of Phantasm Prison has been released in Japanese. |
| December 11, 2020 | The release of the upcoming visual novel LOOPERS (previously known as Project:LOOPER) has been set for Spring 2021. |
| November 8, 2020 | Phase 2 of Ciconia has been delayed indefinitely due to concerns over its subject matter and the current pandemic situation. The popularity poll results have also been announced. |
| October 23, 2020 | Ryukishi07's horror/supernatural visual novel Iwaihime is has been released! Buy it on Steam. |
| October 1, 2020 | The first episode of Higurashi Gou has aired! You can watch it subtitled on Funimation, Ani-One, Anime-Lab, or Wakamin (depending on your region). |
| September 10, 2020 | The opening video for Symphony of Catbox and Dreams has been released. Watch it here! (Contains ending spoilers for Umineko Chiru). The port releases on January 28, 2021. |
| September 3, 2020 | The mobile gacha game Higurashi no Naku Koro ni Mei has been released. |
Editing This Wiki
Anyone is welcome to make a contribution to the wiki! If you see something that's wrong, missing, or badly written, make that edit and document the reason in the edit summary. Don't worry about style stuff if you're just here to fix one or two things, we review recent edits to fix up any issues.
If you're interested in becoming a regular editor, you should join our Discord server on the right as it makes communication much easier. In addition, you might want to check out the following documents: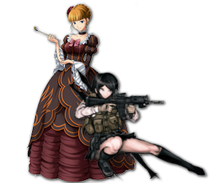 Community content is available under
CC-BY-SA
unless otherwise noted.